Crimp test standards and methods
Background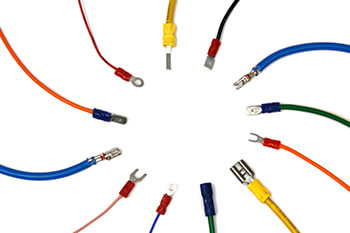 The quality of a crimp joint depends on the mechanical strength of the joint as well as its electrical conductivity. If results from pull force tests are within an allowed range, it assures that the proper crimp force has been applied during crimping. This is crucial as, when making a crimp, enough force must be applied to break down the layer of non-conductive oxides that may build up on the stripped conductor and the plating on the inside of the terminal. This is necessary to provide a good metal-to-metal contact. If this does not occur, electrical resistance can increase. Overcrimping a crimp termination will reduce the circular area of the conductor and thereby increase electrical resistance.
Crimp joint testing (also known as "pull testing") ensures the integrity of the final product but, more importantly, it ensures the effectiveness of the crimping tool itself, since it can be calibrated according to test results. Calibration is best carried out in response to Statistical Process Control (SPC) analysis which can be gathered from data obtained by pull testers.
Standards and methods
International and industry standards all prescribe procedures for testing wire terminal strength in a repeatable manner.It is essential that there is no jerking or sudden application of force so this is the reason why standards state that there should be a 'constant rate of pull' and most define a speed at which tests should be performed. The only practical way to achieve repeatability for pull-out tests is to use a motorised test system such as the CrimpTest-1 or the WTST range of testers.
Although standards define a minimum pull-out force limit according to the wire diameter and AWG conductor size, it is of greater importance to the manufacturer and user to know that joints can definitely sustain higher loads. So the actual force at which the termination will break is measured. Directly pulling the wire joint until destruction at a constant rate, typically 25 to 50 mm/min, is the  most commonly adopted test method and performed by using a motorised test system. The peak force to separate the terminal from the wire is measured and is compared to the table of minimum pull-out forces in the standard to determine a pass or fail.
Other tests call for a steadily increasing load to a specific limit which is then held for a defined period of time before the test continues until a break of the joint is achieved.
Related standards
This standard covers non-destructive testing of individual wire bonds made by either ultrasonic, thermal compression or thermosonic techniques. The test is intended to reveal (by breaking) non-acceptable wire bonds but is designed to avoid damage to acceptable wire bonds.
Specifies requirements for metallic, non-metallic and composite cable ties and their associated fixing devices used for the management and support of wiring systems in electrical installations. Includes method for testing loop tensile strength cable ties of metallic and non-metallic types, and test conditions.
Defines a method for loop tensile strength testing of cable ties for use in aerospace applications, using a split-round mandrel of defined dimensions.