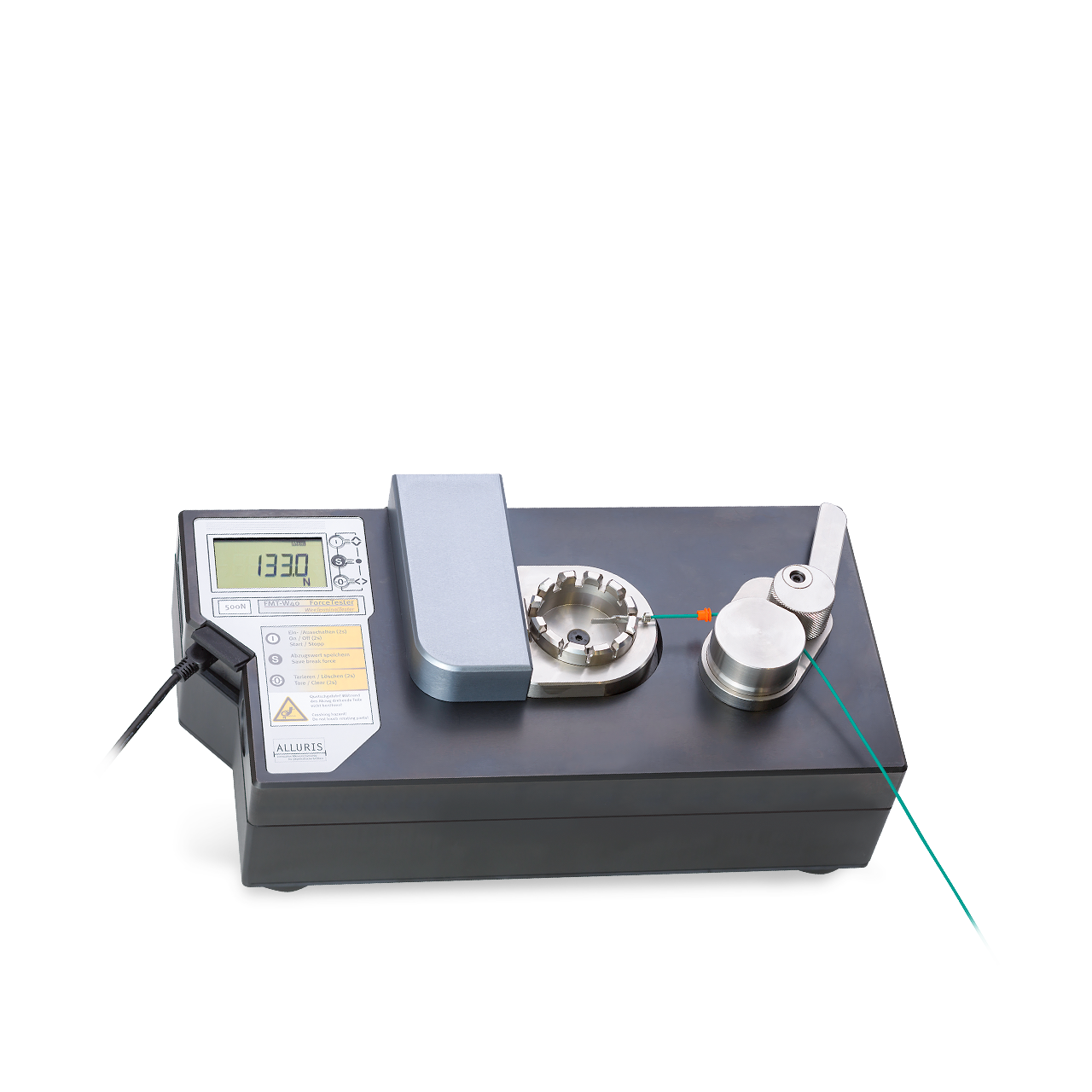 Motorised Pull Tester
Alluris FMT-W40 1 kN pull tester
Motorised wire terminal tester designed for ease of use and rapid throughput.
Delivering Engineering Excellence
Over or under crimping often results in expensive product failure, re-call or re-work. Using a Mecmesin wire terminal strength tester ensures the integrity of your final product but, more importantly, it ensures the effectiveness of the crimping tool itself, since it can be calibrated according to test results
Experts in Wire Terminal Strength Testing
Mecmesin has been involved in the supply of wire terminal strength testers for over 39 years and have a comprehensive range of standard machines from 5 N - 50 kN and dedicated accessories designed to meet all requirements
Supplier of Choice
At Mecmesin our focus has always been the provision of high quality test solutions as an affordable alternative to more expensive systems. This enables small and large businesses alike to undertake quality control tests on their products without compromising on precision and accuracy
Global company
Mecmesin is headquartered in the UK , but we also have a North American headquarters in Sterling, Virginia and sales offices in France, Germany, Thailand and China. In addition we are represented by a global network of distributors in more than 50 countries, who provide technical expertise and after-sales support to customers locally
Comprehensive Calibration and Support Services
To ensure your tests get underway smoothly, whilst maintaining optimum performance of your Mecmesin product, we offer a range of services:
Training - Once you have purchased a Mecmesin crimp tester one of our technical sales engineers or a Mecmesin representative will visit you to install the product and train your personnel to use the product effectively for your application testing needs.
Comprehensive Calibration and Support Services
Calibration, Service and Repair - Offering our customers the highest level of ongoing support and after sales service is Mecmesin's priority. Our calibration services ensure you can use Mecmesin products to obtain the accurate test results you need. We can undertake an on-site verification service at your premises, saving you both time and money, or, alternatively, can perform a comprehensive calibration service at our headquarters in the UK.
Custom-design Grips and Fixture Service
If you have a sample that cannot be accomodated with one of our standard grips or fixtures, our expert-in-house engineering team can design bespoke and innovative grips and fixtures to your exact requirements, assuring axial alignment, secure holding and minimal deformation.
Overview
The FMT-W40 is a motorised wire-terminal pull tester. It is available in 2 models with a tensile strength capacity up to either 500N (110 lbf) or 1000N (220 lbf).
It is rugged, compact and occupies little space on the benchtop. Specifically designed for ease of use with minimal training, it is an ideal solution for testing the pull strength of crimped wire terminals right at the point of production.
Its motor drive enables wire terminals to be pull tested at a constant pull speed for greater repeatability of testing. The FMT-W40 features seven different test speeds as required by the relevant testing standards, .
There are three selectable test modes to allow for destructive and non-destructive testing: pull and break; pull and hold; pull, hold and then break.
Suitable for tensile pull strength testing of wire connectors and terminals according to IEC, DIN, EN, BS, UL, SAE, MIL and NASA standards.
Key specs
Capacity
|   | FMT-W40C5 | FMT-W40K1 |
| --- | --- | --- |
| N | 500 | 1000 |
Resolution
|   | FMT-W40C5 | FMT-W40K1 |
| --- | --- | --- |
| N | 0.5 | 1 |
Tolerance
0.5%
Temperature coefficient
0.02%
Max. operating force
120% (auto-reverse if exceeded)
Measurement error
1.0%
Breaking force
150%
Nominal deflection
|   | FMT-W40C5 | FMT-W40K1 |
| --- | --- | --- |
| mm | 0.15 | 0.25 |
Display
 
FMT-W40C5
FMT-W40K1
Type
LCD, 5 digits, 14mm high